This post is about college dorm room essentials every college girl needs and will actually use.
It is super fun to go shopping for dorm room supplies and decorations. 
What's not fun is when you move everything in, you watch your family and/or friends that helped you drive away, and then you have an "OMG, I forgot to buy a long-standing mirror for my dorm!!" moment.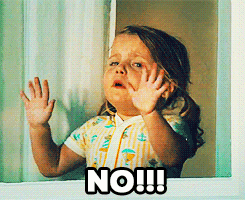 Just picture yourself feeling humiliated as you drag a huge, long mirror across the lawn or up an elevator as college students look on as if they've never seen a mirror before.
Suckkks bad!
That is why it is so important that you review this dorm room essentials list before you move in.
(And if you've just moved in, that's fine. You still have time to turn things around.) 
REVIEW NEXT: ULTIMATE COLLEGE DORM PACKING LIST
Hi, I'm Jessica, your go-to girlfriend for college advice.
After learning from my own dorm room shopping failures and after four years of living on campus, I have gotten really good at getting all the essentials a girl needs to make her dorm room complete! 
But since there are like 70 to 80 different things that you'll need to get for your dorm room, I'm going to cover the not-so-obvious college dorm room essentials that college women must have but often forget. 
Disclosure: *This post contains affiliate links which means that I may receive a small commission at no cost to you, if you make a purchase through my link.
If you're able to tick everything off this list, then consider yourself ready to move into your college dorm room! 
Note: This post has been updated to include two more essentials (see below).
1. Long-Standing Mirror 
I think it was pretty obvious from above but it's worth repeating – you need a long-standing mirror!
Why?
Because you don't want to be that girl who gets a period or a big embarrassing stain on her butt and fails to catch it because she had no mirror to look at herself properly.
I can't tell you how my times I've walked out of my dorm in a rush with something on backwards or my pants unzipped, and had to rush back to my dorm room to fix it because I didn't have a full-length mirror to catch it.
I end up wasting a lot of time and am forced to run to class like a crazy person so I'm not marked late. 
2. House slippers 
Omg, house slippers is a college dorm essential that you absolutely need, especially if you're living in a dorm room with two or more girls!
With so many different people walking in and out of the dorm rooms, the floors can get pretty dirty and sticky really quick.
Having to walk through a yucky mystery puddle and dirt is just gross, so get you some house slippers!
3. Throw Blanket 
A throw blanket is another college dorm essential that you absolutely need, especially if you get cold easily or don't like a room that is too cold.
Personally, I could not survive living in the dorms without it!
During my freshman year, I lived with three other women.
One roommate was like me. She wanted the room at 75 degrees.
The second roommate wanted it at 68 degrees.
And our crazy third roommate wanted it to feel like the south pole – so it had to be 60 degrees or below or she'd complain. 
So the only way that I survived the south pole conditions of our dorm room was buying a thick and comfy throw blanket that I could swaddle myself up with at night.
My advice is to play it safe and get yourself a throw blanket. 
4. Headphones 
Oh yes, I can think of a million reasons why you absolutely need headphones for your dorm room, but the most important reasons are this:
To drown out whatever crazy or boring music you're roommate is listening to.
To listen or watch something on your phone or computer during study breaks while your other roommate is working through her homework and doesn't want to be distracted.
To block outside noise altogether when you don't want to be distracted. 
5. Ramen Noodles
Ramen Noodles makes the list of college dorm room essentials because it becomes your food life-line when you run out of food.
For example, anybody close to me knows how much I love food and when I lived in the dorms, it was super easy for me to go through my cafeteria credits for the week.
There were also plenty of moments when I was broke or felt hungry in the middle of the night and all the nearby restaurants were closed.
So what is a girl to do?? Heat up some delicious ramen noodles. 
Its super easy to cook up (microwave) and you'll be full in no time. Definitely consider getting this.
6. EXTRA PACKETS of Toothbrushes, Toothpaste, and a Toothbrush container
Okay so No. 6 is a pretty obvious college dorm room essential but it still made the list of not-so-obvious essentials because it is so easy to forget at least one of these three items.
I can't tell you how many times I've been invited to a dorm sleepover or have a friend over, and my friend or I ask, "Do you have a toothbrush. I forgot mine."
As such, have at least a couple extras at your disposal. 
This tip is HUGE!! If you're sharing a bathroom, you also need a toothbrush container even if you or your roommate decides to donate a toothbrush holder for you all to share.
It's common for roommates to get drunk and throw up in the sink or get makeup and hair products all over the sink.
And when you have multiple people sharing a bathroom, the toothbrush holder tipping over into the sink is bound to happen!
Imagine watching your toothbrush fall into the sink. Gross! There is no way you can save that toothbrush.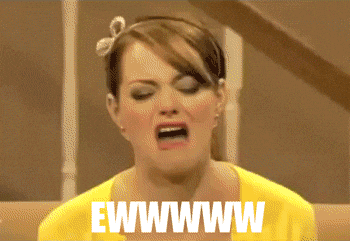 If you had your toothbrush in its own sealed container, however, you'd be safe. So play it safe and get a toothbrush container.  
7. Command Wall Hooks and Hanging Strips
Most universities don't allow students to nail stuff into the wall.
For that reason, you'll need to find some pretty strong alternatives to hang your favorite…
pictures,
momentos
dorm decorations
and everything else you plan on hanging.
The Command Wall Hooks and Hanging Strips are the only ones that I know will get the job done no matter what you're hanging up and is widely used among college students. 
8. Rolling laundry basket
In my college dorm and in most college dorms, washers and dryers are not included in your dorm room but are located in a separate area on each floor or dormitory.
As such, unless you're the type to wash your dirty clothes twice a week, I strongly encourage you to buy a laundry basket on wheels.
It is such a pain dragging a heavy hamper with your clothes sprawling out at the sides and having to stop a hundred times to rest because the laundry mat is still so far away. 
In college, I often put off washing my clothes for three weeks because the thought of having to drag my hamper from my room on the fourth floor to the second floor just seemed unbearable.
Don't make my freshman mistake. Get a hamper with wheels.  
10. Laundry Bag
Another dorm room essential that you cannot forget to pack is a laundry bag.
I don't know why but I always forgot to buy a laundry bag and I ended up paying for it BIG time.
To wash my clothes, I hauled my laundry hamper with my dirty clothes inside to the laundry mat to wash them.
When my clothes were done, I would take a garbage bag from the pantry and cover the hamper with it so I could pack my clothes back into the hamper.
As you could imagine, I went through A LOT of good garbage bags.
This caused me to buy more trash bags since I also needed the bags for trash (obviously lol).
For a broke college student, this was insane and I don't want you to make my mistake.
If you don't already have a laundry bag, purchase a couple for yourself and pack your clean clothes in the bags when your done washing. You'll save so much money in the long run that way!!!
9. Medicine & First Aid Kit
When you think about moving into your dorm, you think of all the people you're going to meet and all the fun you're going to have. The last thing on your mind is possibly getting sick or hurt.
READ NEXT: 6 Products Every College Girl Needs In Her Medicine Cabinet
But any upperclassmen or post-grad will tell you that crazy stuff happens in college, some very unfortunate things that you either become the victim of or personally witness yourself. 
Unfortunately, I wasn't an exception. My freshman year, I was going really fast on my skateboard on my way to the cafeteria and landed on the asphalt hitting my head and scraping my elbow pretty bad.
Even though I was close enough to my dorm to go back, guess what I didn't have??
Yep, so that means no band aids. I had to take a very long, uncomfortable walk to the clinic to get bandaged up. 
Again, don't make my freshman mistake. Get all the medications and first aid essentials for your college dorm so you'll be ready for anything. 
Check out this article to find out the six products you absolutely need in your college dorm room medicine cabinet to protect yourself against the college flu (typically goes around the dorm during the first four weeks of college) and other common college sicknesses.
10. Water Filter Pitcher or Water Canteen
I don't really think I have to convince you of this, but please don't drink the faucet water in your room lol.
I don't care if you're paying $5,000/semester for your dorm room, I promise you, the water is NOT clean.
Instead, you're going to need a way to get filtered water on the cheap. 
While buying a 40-pck of water bottles is an option, it's not the most cost-effective or environmentally friendly way to get clean water.
Your best option is getting the Brita Water Filter Pitcher. It's a medium-size jug that you fill with water and the filter inside of the jug cleans the water for you. You can use the jug for several months before you have to replace the filter. 
There's only one drawback with the Brita, though. You'll have to "replace" the water filter.
A 3-pack of filter replacements can run you about $13.00 but that's about a year or more of good water, so just see if the cost is doable for you.  
Wanna get even cheaper? This is super embarrassing but I was so broke and such a cheapo!!
My freshman year, I bought a Camelbak water bottle and went to the nearest water fountain in my dormitory and on-campus and filled it up. Trust me, these water fountains were the fancy no-contact types.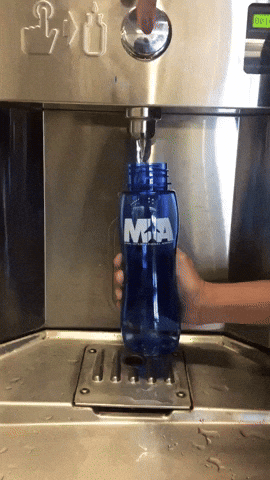 Once the fountains sensed my water bottle underneath, it would fill up and turn off when the bottle was filled up just right. And it did the job!! I had fresh clean water whenever I wanted for $0 dollars. 
So you have options sis.
If you don't want to use the Brita Water Pitcher and your dorms and campus have plenty of water fountains (as they should) then you can get on fine with a refillable water bottle like S'well or the CamelBak water bottle.   
S'well – If money isn't a huge factor for you and you're looking for something stylish, S'well is the poshest bottle you'll ever find. It can keep water cool for up to 48 hours and hot water hot for up to 24 hours.
Although I've never personally had one (when I'm rich I'll get one), I have been admiring them from afar for a really long time and they have nearly perfect reviews on Amazon from over 7,000 people.
CamelBak – This one is a great affordable option to the S'well.
I've personally used this one and enjoyed this bottle very much because I'm not a huge water drinker and this one made me want to drink water ALL the freakin' time. It's the top for me!
The mouth part of the bottle is very supple and is designed in such a way that the water easily and quickly shoots up like a spring in your mouth creating a very nostalgic experience.
Go ahead and try it for yourself, and you'll see what I mean. If you do get it, let me know so I can say…
"Seeeeee!" 🙂
11. Mattress Topper
A Mattress Topper is another important college dorm essential that I highly recommend you get, especially if you don't like sleeping on a semi-hard surface.
Most dorm mattresses are about 3-4 inches deep of springs that are supposed to be fire-proof, and because preventing a fire (not comfort) is colleges' #1 priority, you can almost bet that your mattress will be the same way. 
To make sure that you are sleeping comfortably on your bed and getting the rest you need to stay awake in classes, consider getting a mattress topper.
12. Shopping Cart
The next college dorm room essential that you ABSOLUTELY CANNOT forget to PACK for college is a shopping cart. Unless you are lucky enough to park right up to your personal apartment or dorm FRONT door, you need this.
I had to learn the hard way that carrying loads of groceries from the grocery store, which was over a mile walk away from my dormitory, was excruciatingly painful.
And having a car didn't make it any better as I lived on the fourth floor and across a very long, LOOONG hallway.
Products have burst and broken on me. Products have been lost or forgotten…
The experience was terrible.
My advice is to learn from my mistake and invest in a good shopping cart if you do not already have one.
That way you don't have to deal with the grocery drama that I went through.
More importantly, you'll eventually want to move into an apartment one day where you also need a really good cart, so getting a good one that will last you for years is the way to go.
13. Rug
The last college dorm essential you need is a rug. (You can get a good idea of what I mean in the link).
Remember when I said that if you're sharing a dorm with roommates, you may have a roommate from the south pole who will make your room feel like the south pole??
Well if you fall under those circumstances, your floors are going to feel extremely icy under your feet.
You do not want to leave your warm bed and catch the flu because you were unprepared. Make sure you get a rug for your bed so that you have a spot to place your feet before you get to your house slippers. 
So there you go. That's my list of college dorm room essentials. If you want to review my complete packing list of college dorm essentials, click here. I promise you, you'll get EVERYTHING you need with this list. And a free downloadable packing list is included!
Let me know in the comments below if you found one or more of the items on the list helpful to you. 
Jess
READ NEXT:
The Ultimate College Dorm Packing List for Girls
6 Products Every College Girl Needs for Her Medicine Cabinet
P.S. Have you signed up for my newsletter yet? If not, sign up here! Once a week, I send the BEST stuff on all things college like college relationships, how to get A's, and even make funny post like this one so we can both have a good laugh! Just think of me as your go-to-girlfriend for college advice!