High School Graduation Party Ideas
If you're looking for great high school graduation party ideas, then you've come to the right post!
I've celebrated 3 of my own graduations (high school, college, then law school) as well as attended the virtual graduation party of my cousin's high school graduation, so I know what goes into throwing a really great graduation party!
In this post, I'll be giving you the best 2021 graduation party ideas for three ESSENTIAL parts that make up a really good graduation party: 
Let's jump in! 
This post may contain affiliate links, which means I'll receive a commission if you purchase through my link, at no extra cost to you. Read full disclosure here.
The Decor: 
---
1. "Welcome To My Graduation" Party Sign
The first graduation party idea you should consider incorporating into your party is a great graduation welcome sign. 
This welcome sign should stand outside your party venue that sends a CLEAR message to your incoming guests that your party is HERE! 
If you're at home and on a tight budget, tying a few balloons to your mailbox is an effective way to do this. 
But if you want to take your high school graduation party to the NEXT LEVEL, then I highly recommend that you place a welcome sign like this one out front: 
This sign also works perfectly if you're hosting your party at another venue like a banquet hall.
With this sign, everybody will know that they are walking into the right party – which is very important if it's away from your house!! – and will definitely get them excited for what's to come.  
Okay, now that we've covered the outside, let's head indoors and talk about how to transform your space into an incredible, jaw-dropping graduation party space – without breaking the bank!
2. A Graduation Party Banner 
One thing I've learned from decorating my own graduation (and bridal) parties over the years, is to use really big decor pieces to fill up a space. 
If you use very small party decor party items, you'll need A LOT of it to turn the room into something that feels like a party. 
But if you're super intentional about what you buy, you can transform your space into a party room with just 2-5 items. 
As such, the first item I would highly recommend that you add to your space is a large 2021 graduation party banner: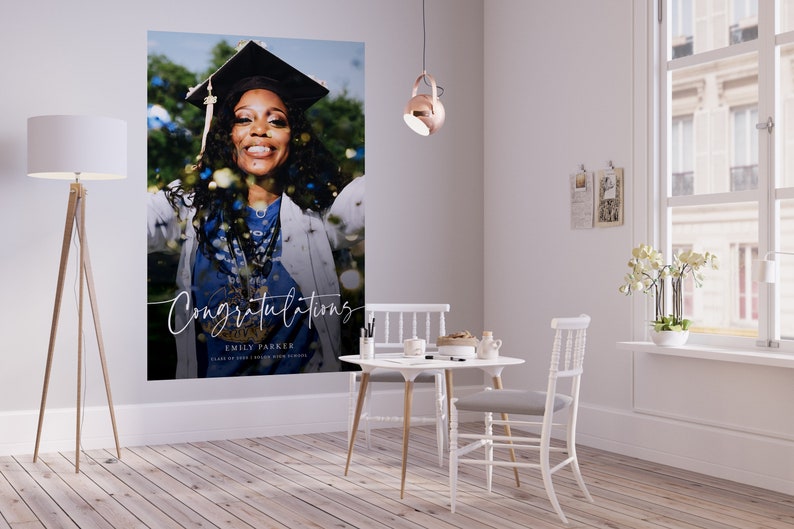 I really love this banner because:
you can put it up against any wall
it fills up the room highlighting the most important person (the graduate), and 
it sends another clear resounding message to your friends and family that they just walked into a graduation party! 
READ NEXT: 50+ INCREDIBLE GRADUATION GIFTS FOR HER
3. Balloons
The next 2021 graduation party idea that I would add to your space (and which I always went all out for at my parties) is BALLOONS. 
At my last graduation party, I had one big, GIANT graduation party balloon, a few medium-sized balloons, and several regular-sized balloons. 
Then, I had several more regular-sized balloons scattered in the different parts of my graduation party room. 
I seriously love this GIANT balloon (pictured below) because it's super stylish, an eye-catcher, and will fit right in with all the other balloons that you buy.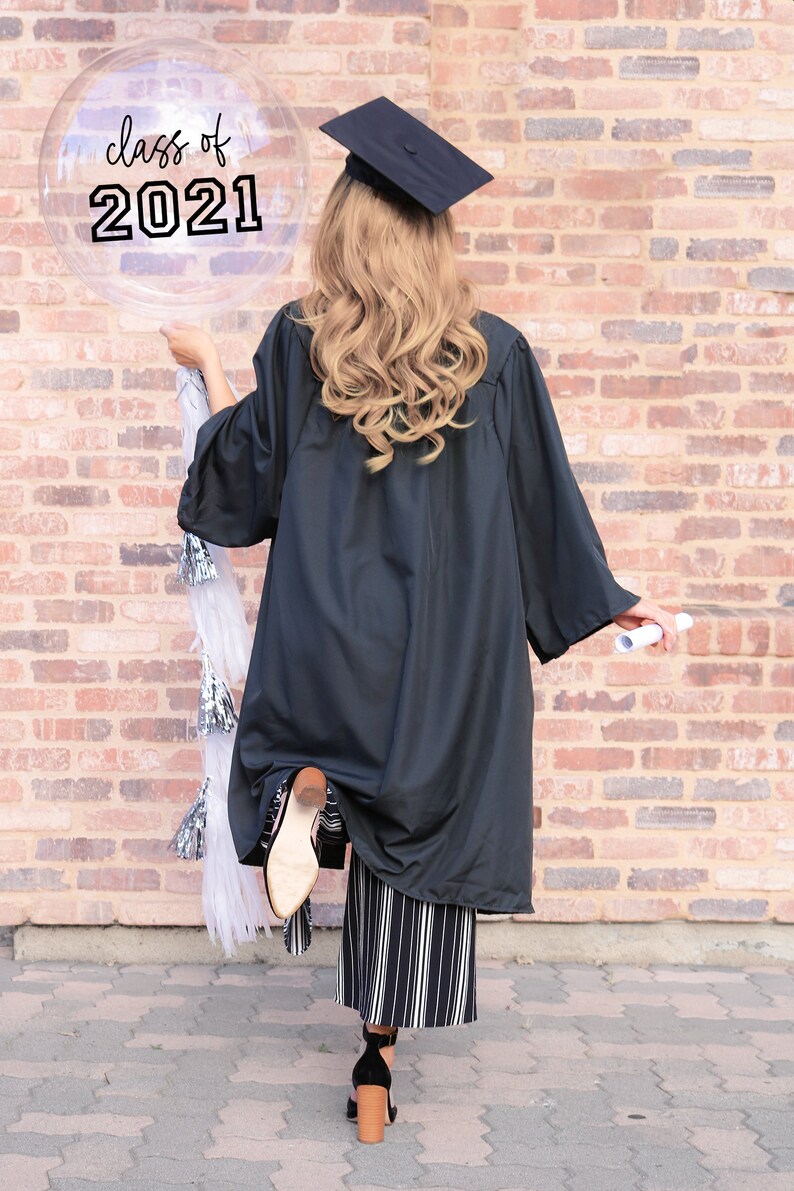 I also love this name letter balloon! It's super unique and graduation idea I wish I knew about for my party. 
I would recommend, however, that you buy your medium-sized and regular-sized balloons at your local party-city store. 
You can get plenty of really nice medium-sized and regular-sized balloons for an affordable price and have them blown up for you in the same visit.
Finally, if you don't want your balloons on the floor, then you can also go with this idea!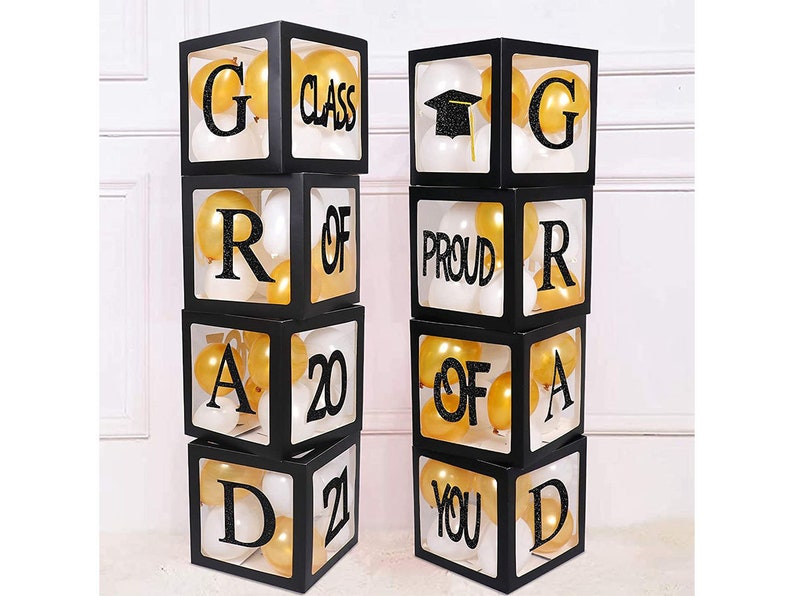 I just love how these balloon boxes stand up like pillars and can be set on either side of your entryway or beside a backdrop. 
Onto the next best 2021 graduation party idea…
4. Matching Plates and Utensils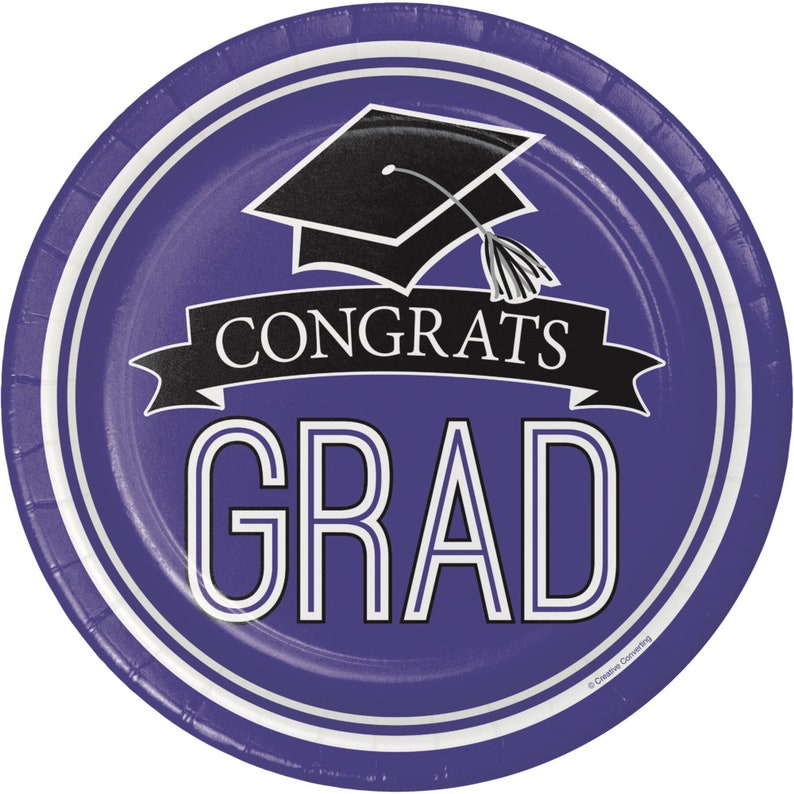 The next thing you'll want to get for your party is matching plates and utensils. 
I would highly recommend that you also visit your local party store to get these. 
They will have PLENTY of graduation party colors and styles for you to choose from. 
For color – if you haven't already chosen a color and you don't know which color to choose, then aim to find colored plates and utensils that match your school's colors. You are celebrating graduation from YOUR school after all. 
5. Photo Back Drop
The next best 2021 graduation party idea is having a photo backdrop!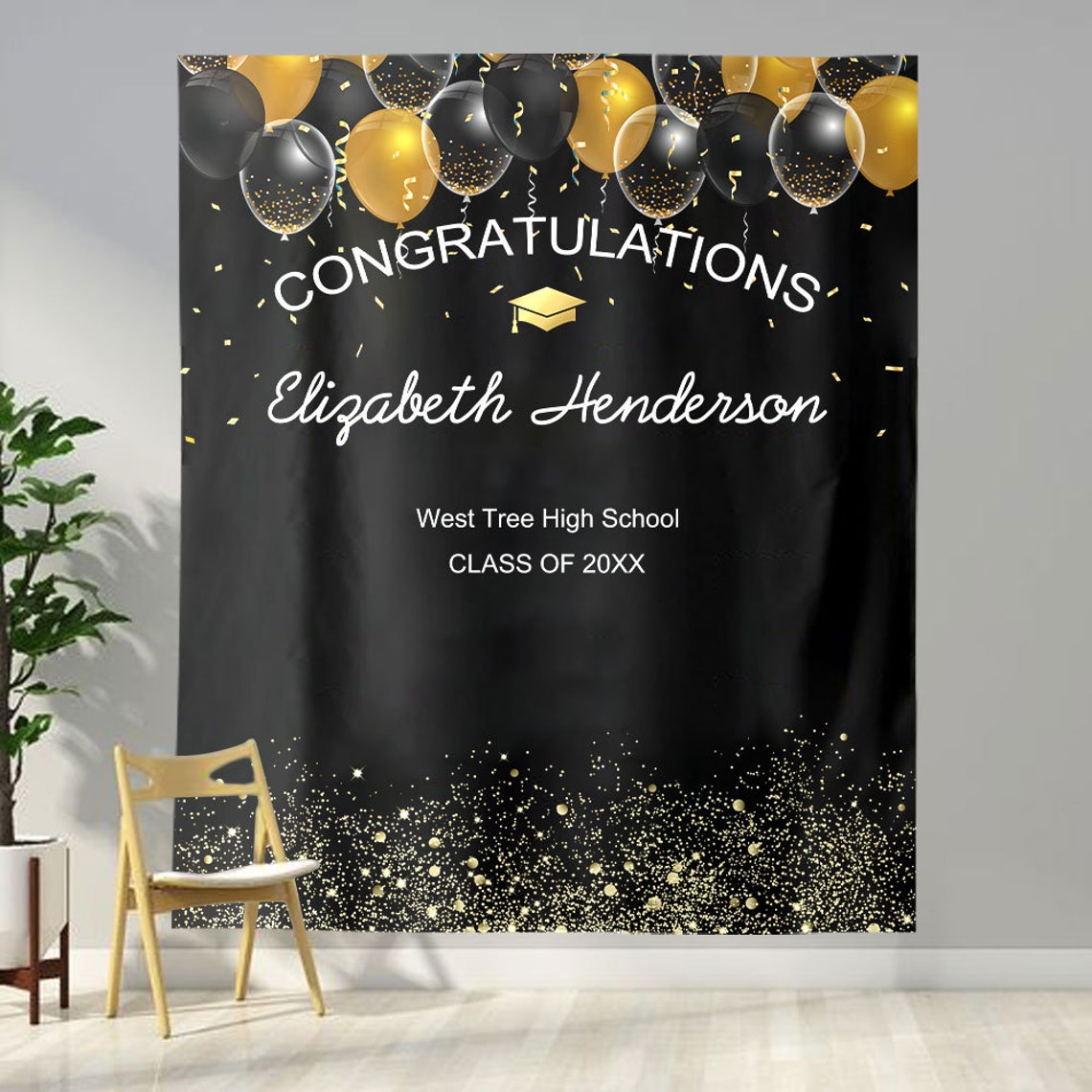 Not only does this give your friends and family something fun to do, but it's an excellent way to make your space feel even more like a graduation party. 
READ NEXT: 50+ INCREDIBLE GRADUATION GIFTS FOR HER
6. Food Labels
Graduation-inspired food labels are also another great graduation party idea and a major decor must-have!! 
I know you know that MOST people come to parties looking forward to the food. 
Well, your people will be totally won over by these food labels. 
Just check what I found!!!!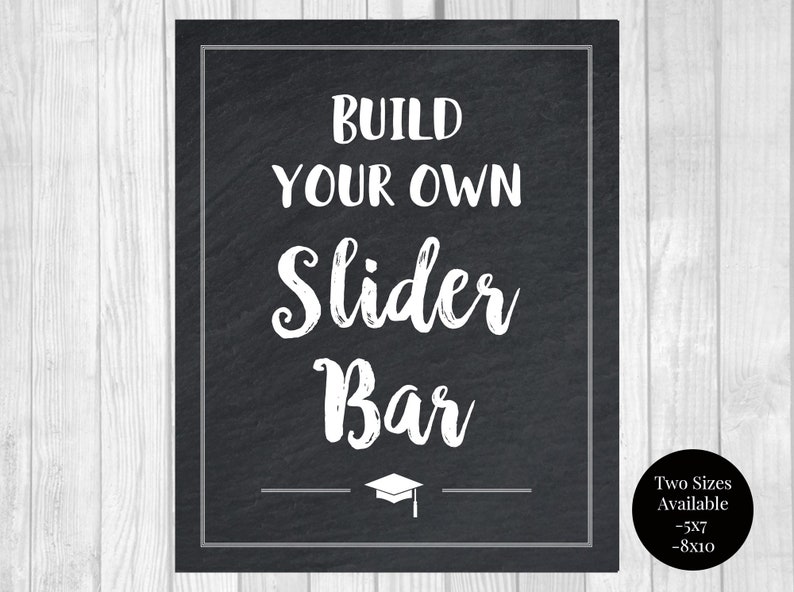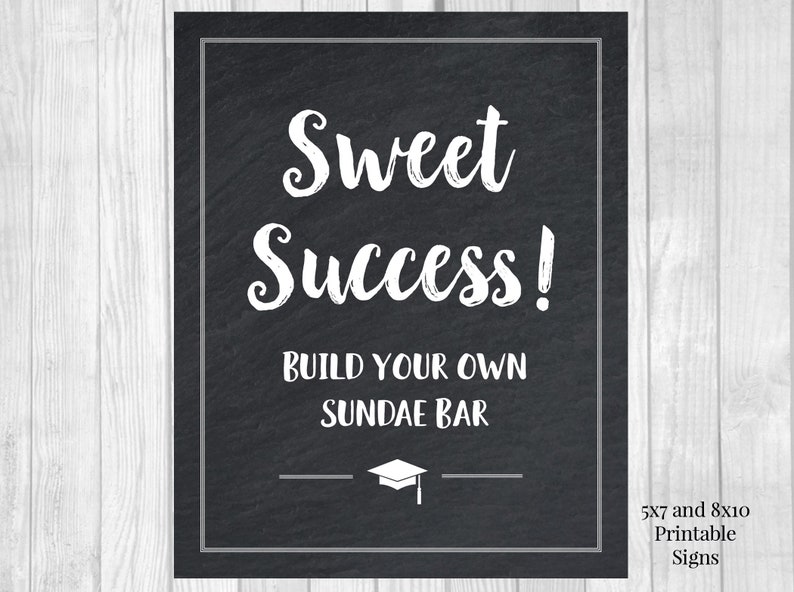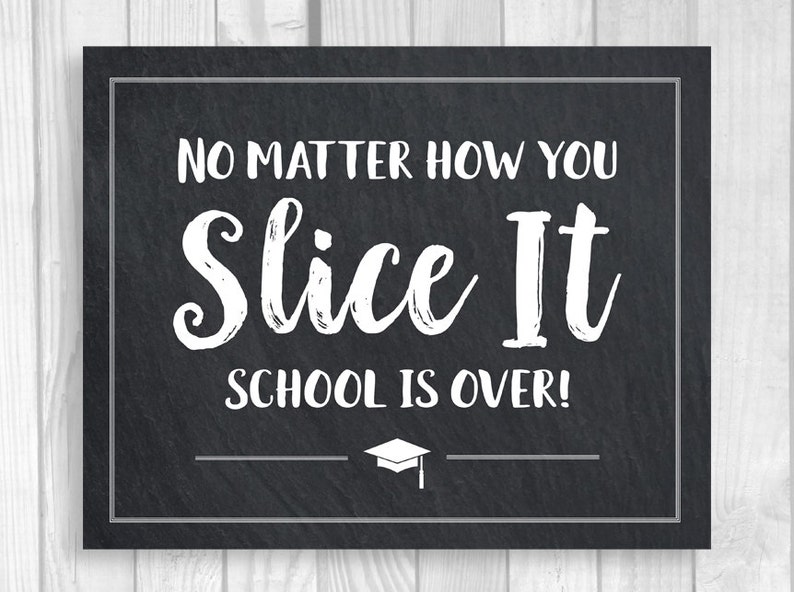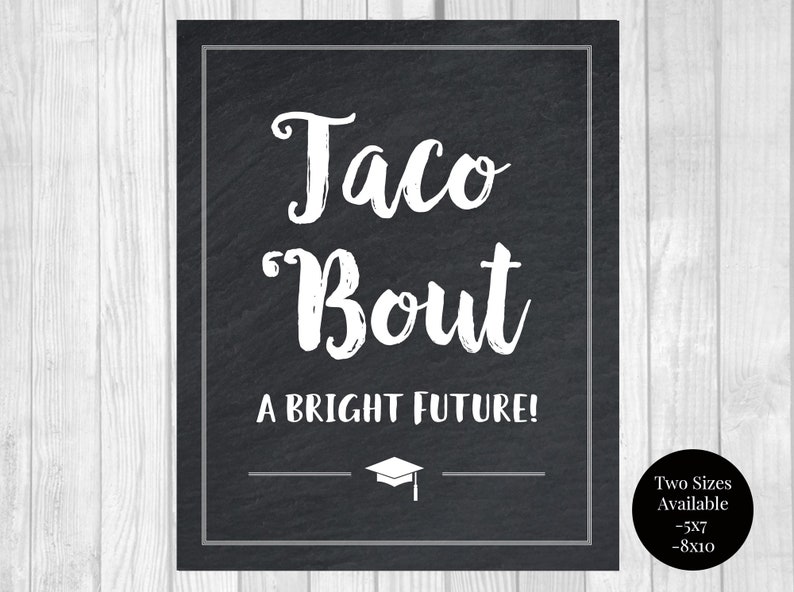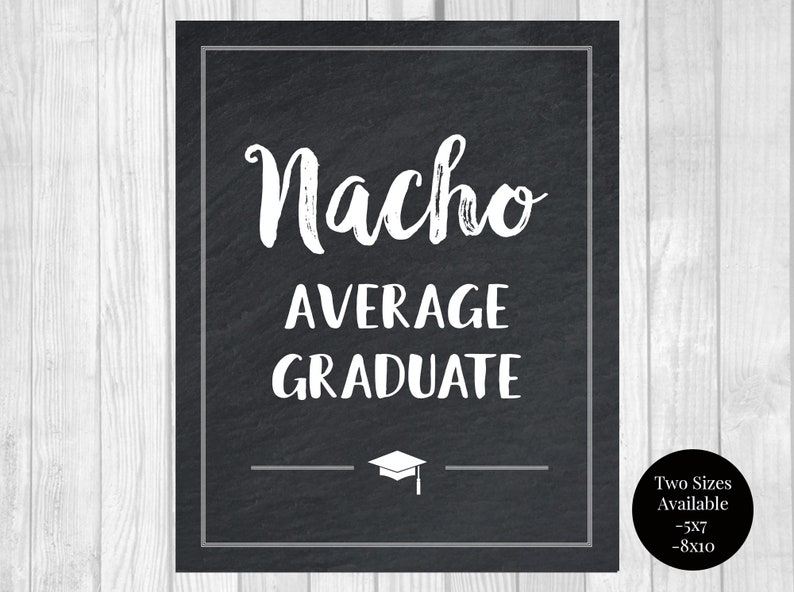 These food labels are literally the best I've seen on the internet. 
EVERYONE will be asking you where you got them OR stealing them when the party is over haha. 
But what I like about these food labels the best is that they give you great party food ideas for YOUR graduation party. 
And trust me! We'll cover party food ideas in sec… 
7. Graduation Photo Banners
Finally, having a collage or string of pictures of you (or your grad) throughout the years and up to your graduation is a wonderful way to transform your graduation party into an unforgettable, and truly unique space! 
That's why I got so excited when I saw these banners.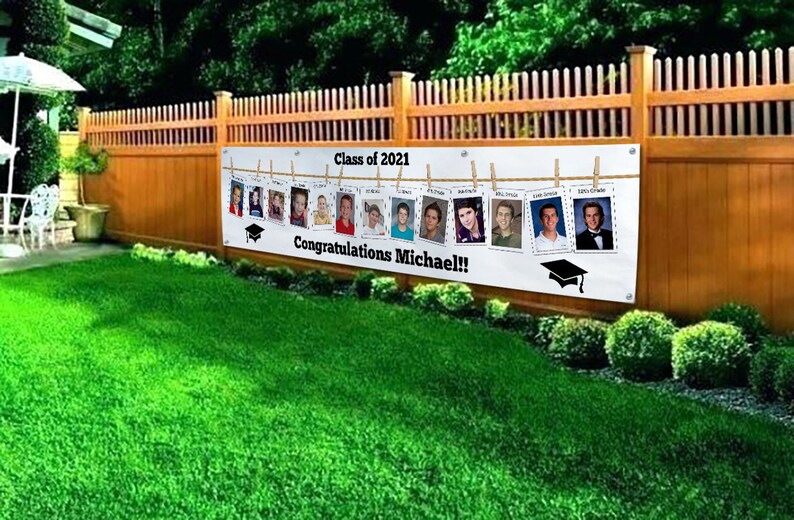 These banners make it so easy for you to add your pictures and organize them in a way that looks good and presentable. 
More importantly, they'll attract a lot of foot traffic from friends and family who will appreciate seeing how you've grown and matured over the years.
Food !!!
---
I am the biggest foodie ever and one thing I make sure I always have at my parties is good food. 
Here are some excellent food ideas that are great for any crowd: 
Chips and Dip (guacamole, salsa, cheese, spinach dip)
Pasta (macaroni, pasta salad, a mean lasagna) 
Tacos (you can do ground beef and veggie crumbles for your vegan and vegetarian friends) 
Fried Chicken 
Mozzarella Sticks
Spring Rolls 
Assorted Cheeses and Fruits 
Pizza
Activities
---
The second most important thing after food at a party is some really fun activities. The last thing you want is a packed house of really bored people. 
As such, I have 6 awesome graduation party activity ideas that will create a ton of fun for your crowd! 
READ NEXT: 50+ INCREDIBLE GRADUATION GIFTS FOR HER
8. Photo Booth
Out of all the 2021 graduation party ideas, this one is by far the best graduation party idea you can pursue. 
If you have a photo booth at your party, people will FLOCK to it so fast and be hanging out over there so long, you'll have to create a line so people are taking turns. 
I don't know why but people just love photo booths. They go crazy over the props and have lots of serious fun with it. 
Here is one photo booth that I absolutely went crazy for!!! How beautiful is this one?!!!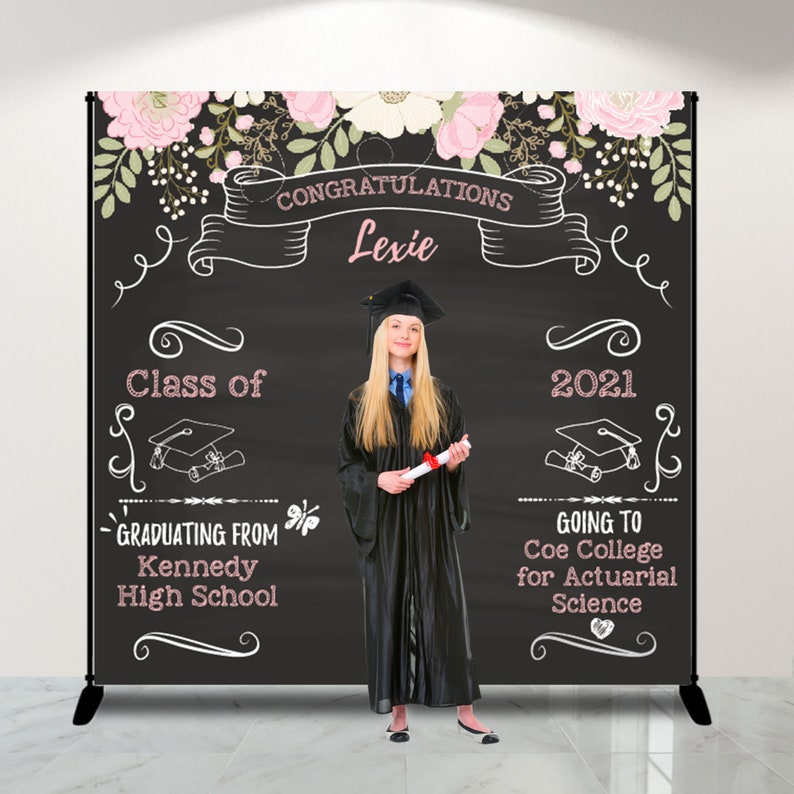 If you don't want a photo booth as big as this one, you can also go with this one which is equally gorgeous but way more portable: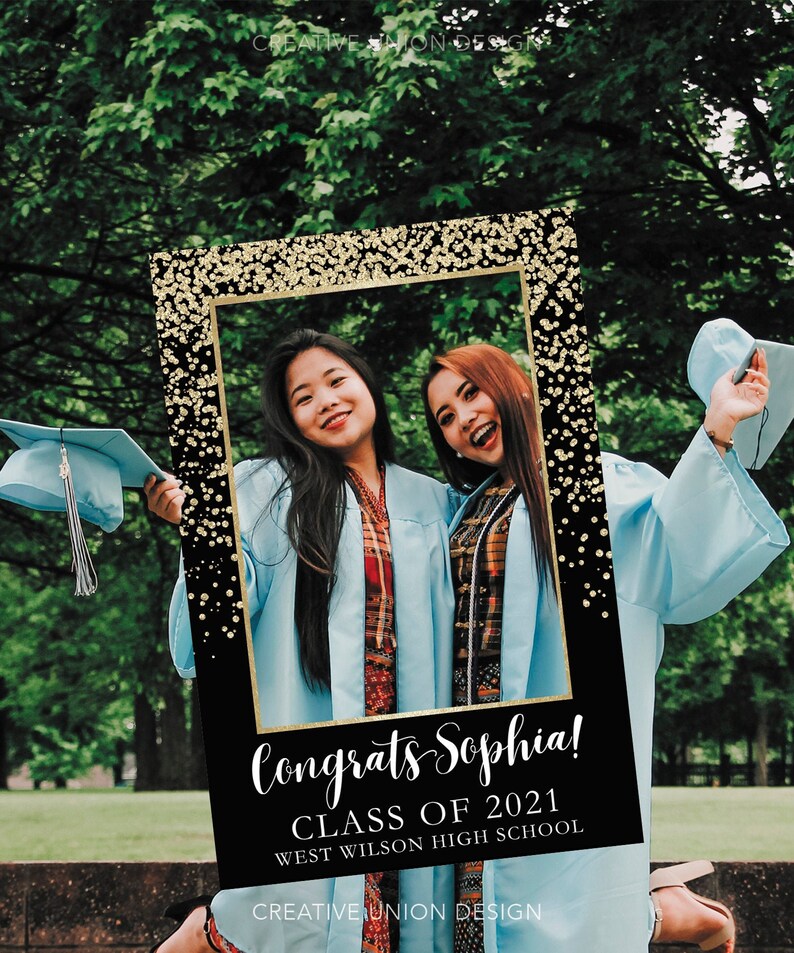 9. Funny Props
Then get some funny props like these ones so you're friends and family can enjoy the photo booth to the fullest.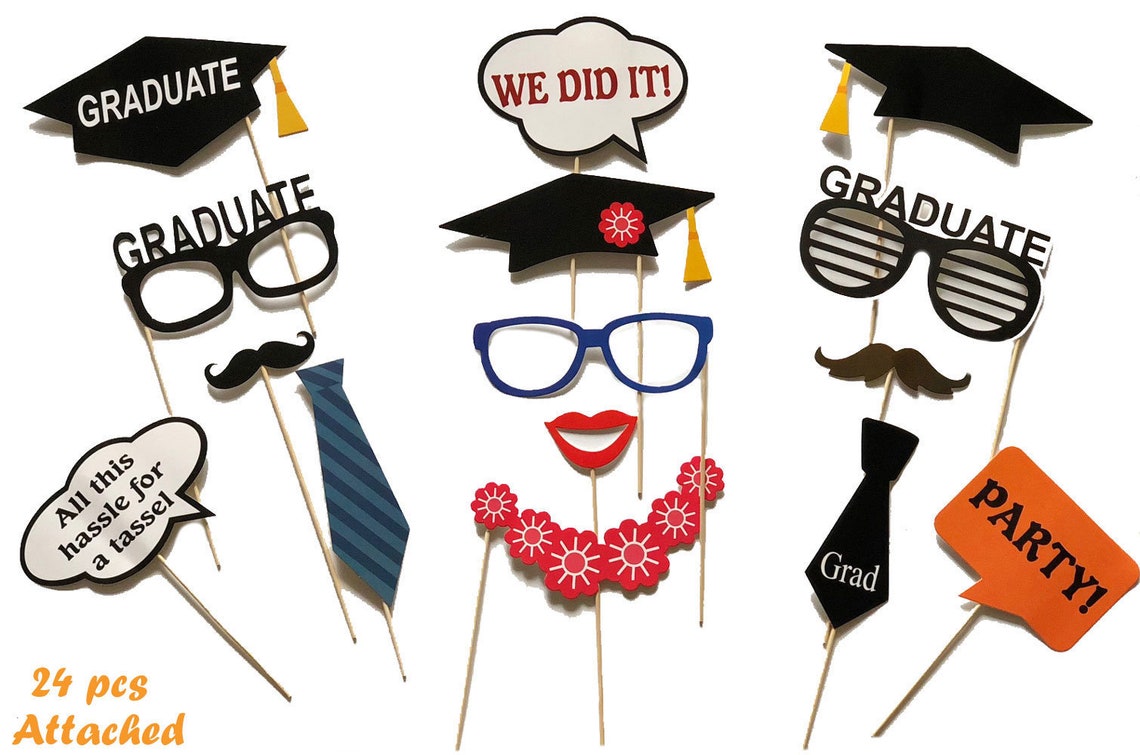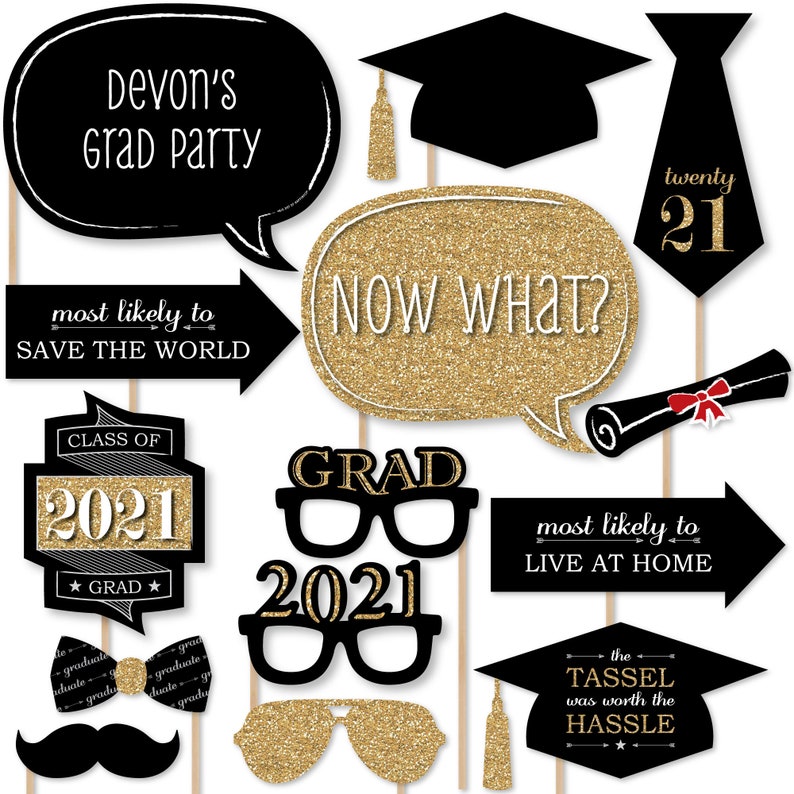 10. Graduation Tattoos
Okay, so I didn't even know this was a thing but this has to be the most genius 2021 graduation party idea I've ever come across!
Tattoos of your (or your graduate's) face! How cool is this?!?!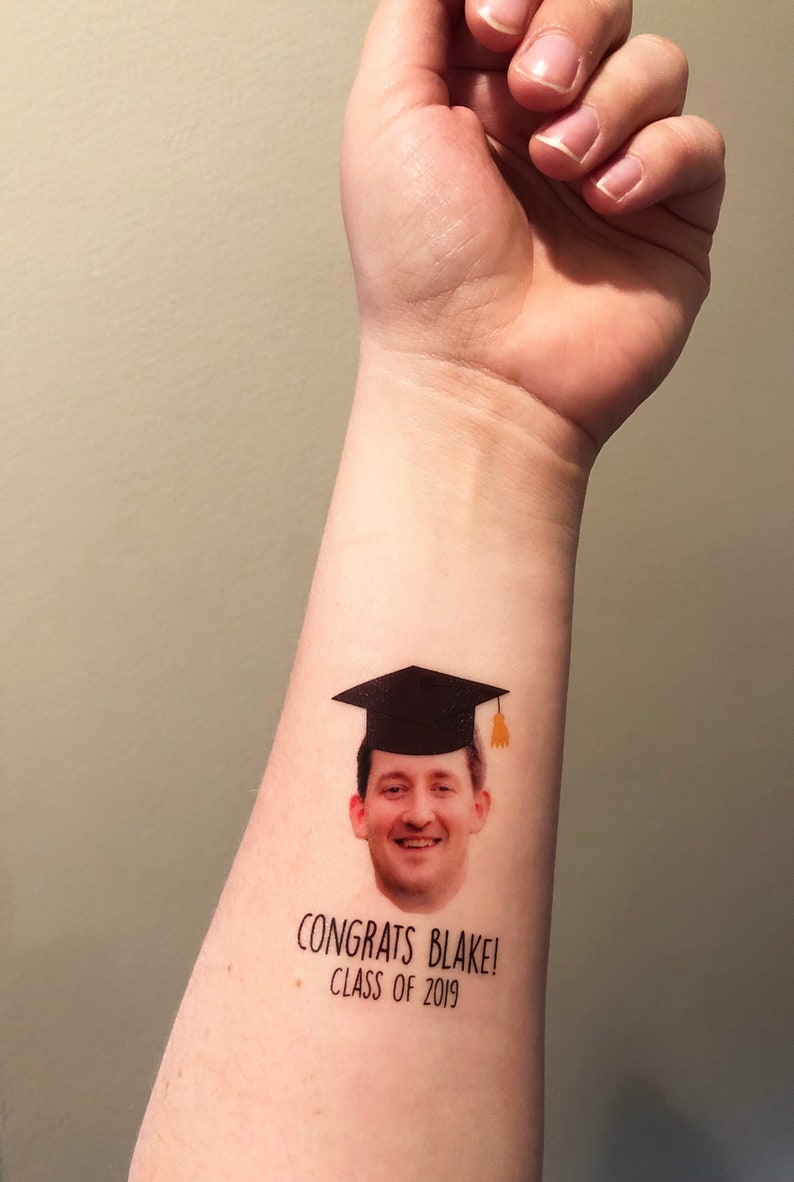 This will definitely keep your friends and family engaged and likely be voted the best activity at your party after the photo booth. 
Want to make it more fun and interesting??
Have some tattoos of you (or your grad) making a silly face. 
It'll definitely bring some good laughter to the party. 
READ NEXT: 50+ INCREDIBLE GRADUATION GIFTS FOR HER
11. Graduation Wishes Cards
Another awesome 2021 graduation party idea and activity is graduation wishes cards. 
Have your friends and family share their best advice and memories with you by filling out this card.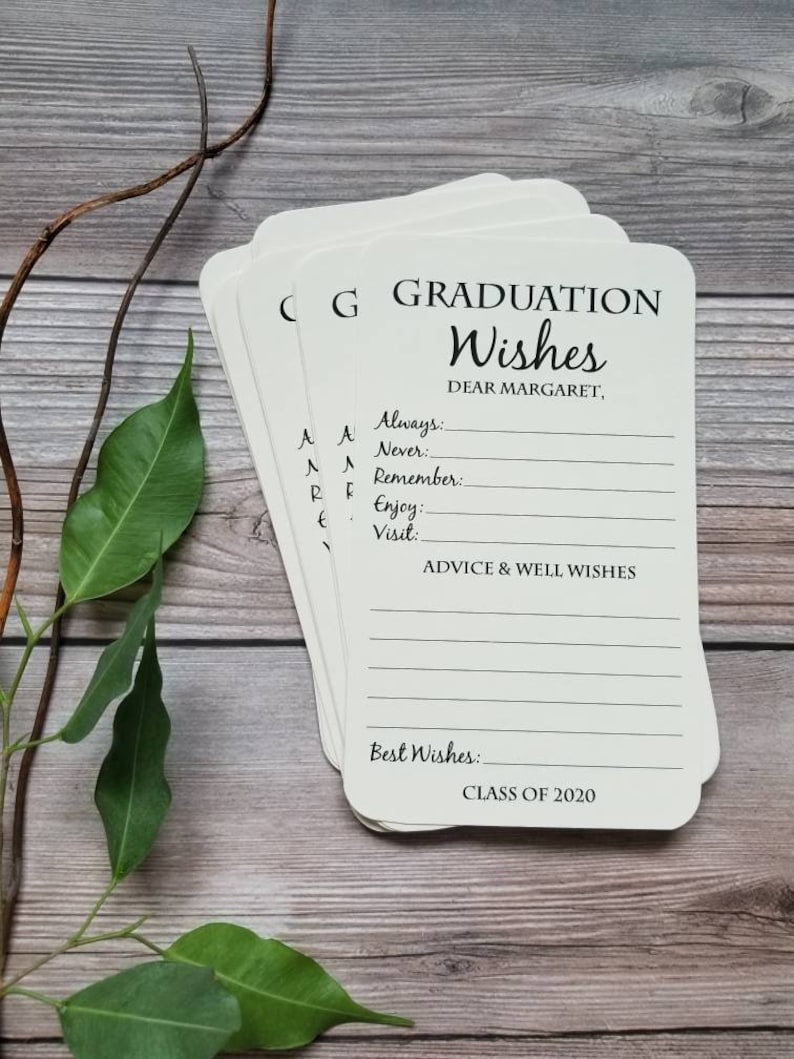 You'll have it to look back at for years and years to come. 
12. "Guess How Many…" Jar
The "Guess How Many…" Jar game is a total classic and it's one that keeps on showing up at every party I attend. 
And I totally get why haha. 
Who wouldn't want to win 200 peanut M&Ms or 400 yummy skittles??…
It is a fun challenging activity that anyone, young or old, can get in on.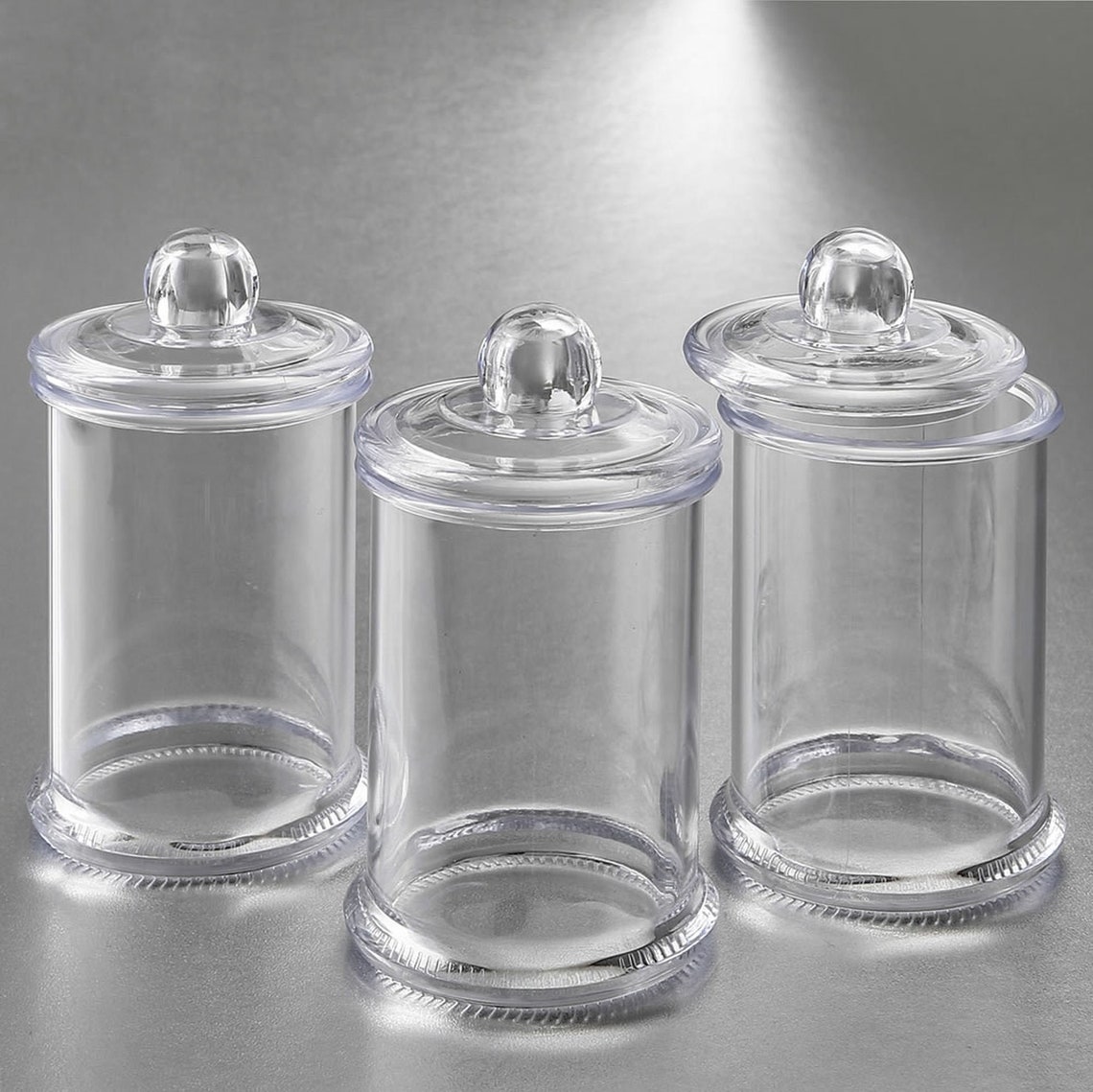 Just choose a candy one that most people enjoy eating so everyone is equally motivated to get it right. 
13. Slideshow
Another great 2021 graduation party idea is a slideshow of you (or your grad). 
While your family and friends are stuffing their faces with delicious food, you can play a slideshow of you during your greatest moments in school as well as some memorable pictures of you and them. 
Dessert
---
Last but not least, a graduation party is not complete without some delicious desserts. 
14. The graduation cake – of course!
I know you got this one so I won't go into this….
15. Cupcakes 
Personally, I prefer cupcakes at graduation parties to cake. 
Rather than taking one slice where you might not get all the amazing frosting (or you get too much) a cupcake is the perfect party in your mouth!
Also, cupcakes are always super popular at parties, so if you can include them in your graduation party, I say go for it!!!
16. Graduation Cake Toppers
A genius 2021 graduation party idea would be to add these customized graduation cake toppers on top!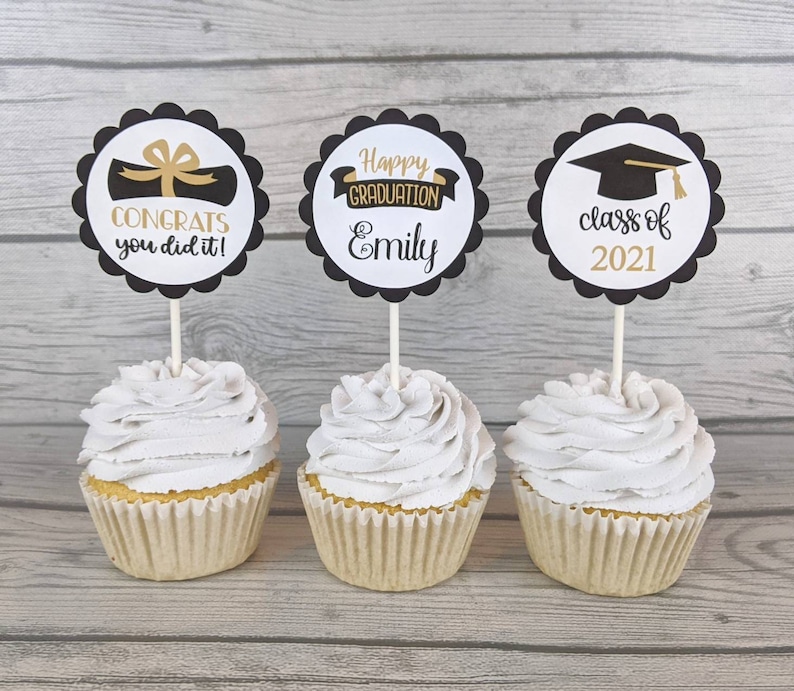 Your guests will be so excited to dig in when they see these cake toppers!
17. Cookies
If you can't do cupcakes, then the next best 2021 graduation party idea for desserts is cookies!!  
They will come out to be way cheaper than the cupcakes and it will be something that your guests will equally love. 
To keep with the theme of the party, I highly recommend that you place them in these "smart cookie" bags.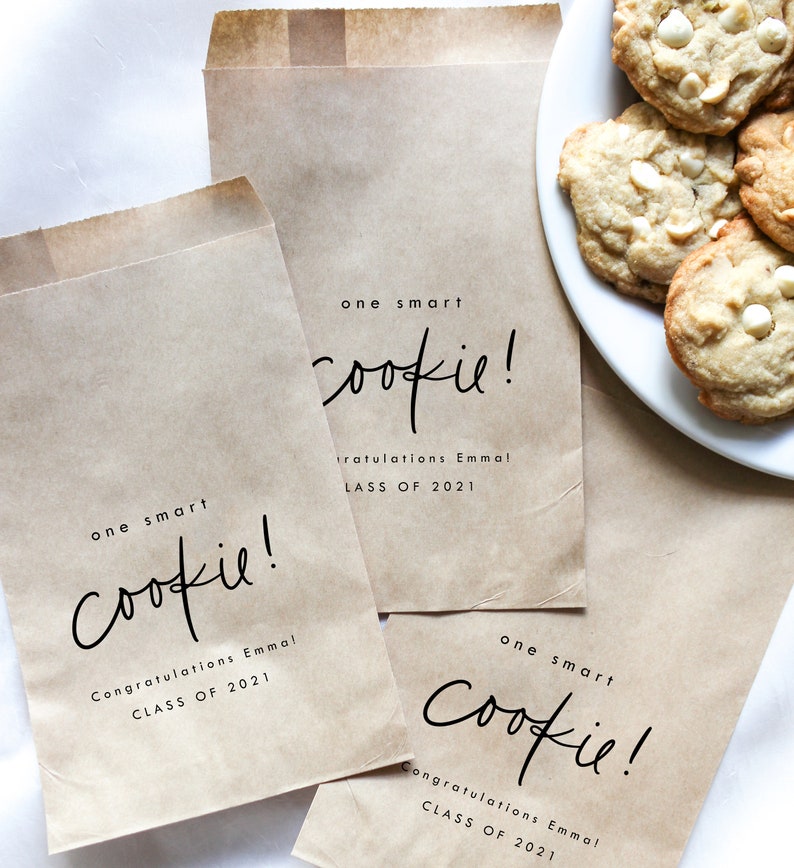 These bags will take your dessert to another level of greatness and your guest will get a huge kick out of them. 
*This post was about great 2021 graduation party ideas*
Other Posts like Graduation Party Ideas You Might Be Interested In:
Learn more about Jessica, you're go-to-girlfriend for college advice. Feel free to email her if you have a question or just want to say hello.