This post is about how to take notes like a 4.0 college student. 
If you are new to college or an upperclassmen looking for an effective way to take notes so you can finally score a 4.0 G.P.A., then you've come to the right place. 
I was a straight-A student in college and I got straight A's every semester by taking notes in a strategic way that set me up for my exams. Today, I'm going to share all my note-taking strategies with you. 
But before we jump right in…
I'm going to tell you what you will need and what you absolutely don't need when you are taking notes: 
You'll need… one notebook for class.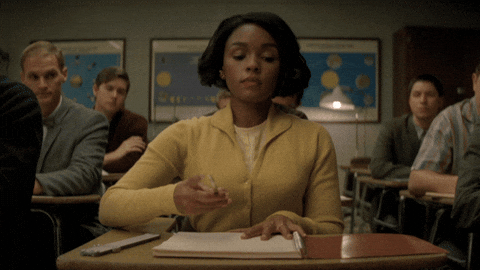 I highly recommend that you dedicate one notebook for each class. It can be a spiral notebook or a composition notebook, your choice. 
Label each notebook with the name of your class so you don't accidentally mix them up later when you're taking notes. 
It's super important that you keep your class notes for each class in their respective notebooks so you don't go crazy later trying to find that one random note that you desperately need to prepare for an exam. 
The last thing I will say on notebooks and is SUPER IMPORTANT FOR YOU TO REMEMBER IS THIS: 
Every time you open your notebook to add a new note, write the date FIRST. 
You'll want to do this so that way when you are studying for your Finals on week 13, you know where in your notebook to look for notes on X Chapter or X discussion, or for X answer.  
You'll also need flashcards and 1 or 2 Highlighters. 
You absolutely do not need…
Every highlighter of the rainbow 
Personally, I think it's a big-time waster color code notes on a page. However, if color-coding genuinely helps you study, by all means, go for it. 
But I won't ask you to do that and its not necessary to take good notes.
Plus, I find that a lot of people who use a bunch of highlighters to color code everything are not able to keep up with it in the end because they're knee deep in other assignments and projects for class. They ultimately end up using one or two highlighters. 
You also do not need an Ipad, a fancy tablet, or a note-taking app.  
Save your IPAD for Netflix.
Alright, let's jump in. 
READ NEXT: 7 Best Study Tips for College A's
How to Take Notes from a Textbook
Many college students make the mistake of trying to write everything they read in their textbooks, down into their notebooks. But that's working harder not smarter. 
The correct way to take notes is by using the Author's breakdown of the Textbook and Your Professor's Syllabus as I guide to taking notes. 
Here is what I mean: 
If you look at your textbook, your textbook is broken down by chapters and are further broken down by sections, headlines, and notes.  
As such, start with the first section/headline and when you've completed it, summarize the concepts you've learned in that section and write it down in your notebook. 
Come across any words you don't know? 
Turn it into a flashcard so you can use it as a study aid later for an exam. 
Did you come across anything that you found confusing or you don't get?
Write that down in your notebook as well. 
Later, you can either shoot your professor an email about it or follow up with your professor about the problem at the next class meet up.   
Sometimes you can even use your syllabus as a guide for pulling notes from your Textbook. 
For example, if your professor tells you to read a particular note in your textbook (we'll call it Note 1.5) then take good notes on it. 
It would be wise to assume that if they are asking you to review at a particular note out of everything else that is included in the accompanying chapter, then it must be important to them. 
And if it's important to them, there is a high chance that they may put it on the exam and test you on it. 
Another scenario in which the syllabus can become extremely useful for notetaking is if your professor leaves questions under each assigned chapter in the syllabus for you to think about as you read. 
Try your best to find the answers to the question in the textbook and summarize it in your notebook. 
You can also turn the question and answer into another flashcard. 
Finally, if you stumble on anything that you want to return to in your textbook or you feel might come up in discussion of a future class, highlight it! That way you can find it quickly on the day you're ready to review it. 
How To Take Notes From a Lecture
If you're in a situation where you're listening/watching/sitting in on a live lecture and you have no access to PowerPoint Slides, then do this: 
Paraphrase as much as you can of what your Professor is saying. 
Don't attempt to write every word down (unless the Professor is a super slow speaker) because you'll end up missing out on what the Professor says next. More importantly, when you take notes this way, you can't really listen and think about what the Professor is saying and learn in real-time. 
Paraphrasing, on the other hand, requires you to become an active listener where you are taking concepts that you just learned and putting it into your own words. 
That's why the paraphrasing method is superior and is how 4.0 college students take notes to ace their exams. 
On the other hand, if your professor writes something on the board, jot everything down!!! 
That's gold and you want it. 
Heck, if the professor lets you, take a picture or a short clip of the board. 
Do whatever you can to get as much of his/her notes recorded in your notebook, because it's important. 
How To Take Notes From a PowerPoint
One thing you don't want to do is to rewrite everything you read from a PowerPoint Slide onto your notebook if you already have access to them. 
That's a waste of your time. 
That's working harder not smarter. 
And that's not what a 4.0 student would do. 
A 4.0 student would print out the PowerPoint ahead of class, read through it, highlight concepts and information that she wants to return to, and write questions beside any points or concepts that she doesn't understand so she could ask her Professor.
Then when she's in class, she'll follow along and review her copy of the PowerPoint with the professor. 
If the Professor elaborates on any of the points in the PowerPoint write it down. 
If the Professor spends a considerable amount of time on a specific point or section, or throws you a bone, and says, "Study this. This is important for you to know and it might be on your test," draw a star or a heart around it. 
That's gold. 
If a student asks a question and it's helpful to you, write it down.  
The Professor may put the student's question in a quiz or a test to see if you and other students were listening. 
Unfortunately, that has happened to me before. Fortunately, I was prepared and I scored an A on my test. 
You can decide whether on not you want to write your notes on your copy of the PowerPoint or your class notebook, but if you want advice from a 4.0 college student, I highly suggest that you write on your copy so you can keep your notes together with PowerPoint and minimize your chances of losing your notes later.  
Then place your marked-up PowerPoint in your class-designated folder, where you keep all of your other handouts that you receive from your Professor from time to time. 
If the PowerPoint is longer than 20 slides, write down the headline, the page of the Powerpoint, or the section from where you are taking your notes as you write. That way you can easily find the slide to the accompanying note when you need to refer to it. 
READ NEXT: 14 Best Tips To Avoid Distraction and Improve Your Focus
As an extra precaution, in your notebook, take note of which PowerPoint the notes are taken from so you can find the PowerPoint easily when you're ready to circle back to them. 
There is one thing you should do beyond just writing in your notebook and highlighting whatever jumps out at you. 
Whatever you believe the Professor might test you on, whatever concepts you don't understand or have a hard time remembering or defining, create a flashcard with a question on the front and the answer on the back. 
Feel free to write multiple questions and answers one Flashcard so you save money on buying multiple decks of Flashcards. 
That's what I did since I was broke in college. I wrote multiple Q & A questions on one flashcard and it made no difference in my ability to study and learn from the flashcard. 
Nevertheless, do what works for you and what you believe will help you retain information better. 
If you follow these note-taking tips, you will dramatically increase your chances of acing your tests and gaining the title: 4.0. college student. 
And this might be you when you see your grade posted in the hallway…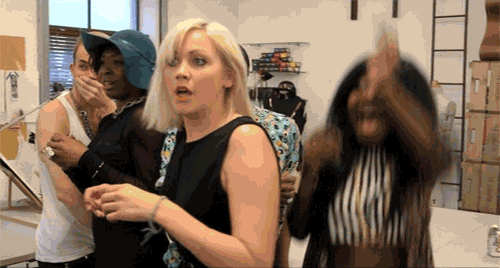 READ NEXT:
How to Avoid Distraction and Improve Your Focus
7 Best Study Tips for College A's
11 Things Professors Do that Annoy Us
P.S. Have you signed up for my newsletter yet? If not, sign up here! Once a week, I send the BEST stuff on all things college like college relationships, how to get A's, and even make funny post like this one so we can both have a good laugh! Just think of me as your go-to-girlfriend for college advice!