*This post includes 14 genius hacks to help you focus on studying*
One of the hardest things about being a college student at home is learning how to focus on school and your studies when there are literally one million things to distract you: 
Your phone,
your sister or brother
the video that YouTube keeps suggesting you watch,
your mom…
It's a lot.
Luckily, I've learned some strategies that have helped me avoid distractions and improve my focus at home while I study that I am going to share with you today. 
And don't worry, I'm not going to tell you to ban social media. 
Here are 14 effective tips that will help you avoid distraction and improve your focus: 
1. Remove all notifications from your phone's lock screen except your calendar. 
Do you keep your phone close by while you study?
If so, you phone is likely distracting you.
More specifically, the notifications that often pop up on your phone's lock screen (usually from Instagram, Gmail, Wats App, Pinterest, and Facebook) may be distracting you.
And if you're like most college students, once you see that notification, you give in to the temptation to click through to see what it is.
You check your phone multiple times a day since its rare to get just one notification. 
But it can be extremely distracting and really affect your ability to focus.  
For this reason, I recommend that you remove them from your phone's lock screen. 
You'll have less urges to pick up your phone since you won't have notifications popping up on your lock screen display to tempt you.
This is how you remove notifications from your lock screen: 
Each phone will be slightly different (I have a Google Pixel) but essentially you should… 
Go to "Settings" on your phone 
Then go to the "Notifications" tab or wherever "Notifications" is located in your phone. 
Then find the option for "Notifications on Lock Screen" and change your settings to "Don't show any notifcations." 
The only thing that you want popping up on your lock screen is your google calendar which should serve to remind you of your schedule, your upcoming classes, an upcoming meeting or appointment, and any other event that requires your undivided attention. 
2. Remove App Notifications From Your Phone's Home Screen 
In addition to turning off notifications from your lock screen, I highly recommend that you remove app notifications from your home screen that personally interrupts your focus every day. 
You know which ones they are. 
For me, it was Instagram!
It is super important that you take this extra measure because if you are in the habit of checking your phone every 5 minutes, it is going to be hard not to reach for your phone during the first day or week of implementing these tips.
And guess what we'll be waiting on the other side of your lock screen?
Those darn app notifications on the top of your screen!
So, remove the app notifications from your home screen.
That way the app's icons don't appear when you open your phone and you'll have less of an urge to hop on social media when you're supposed to be studying or learning. 
This is how you remove app notifications from your phone's home screen:
Note: Directions are from my Google Pixel and so may not be the same on your phone. 
Go to "Settings" 
Go to the "Notifications" Tab
Click on "Apps" 
Click on the specific app that distracts you (Facebook, Instagram, G-mail, Audible, ect.)
Change the settings of the app to remove/silence notifications. 
See picture below:
You can always change these settings back to their default settings on the weekends when you have more free time.  
READ NEXT: 11+ Best Sunday Habits for Student Success
3. Remove Distracting Apps From Your Home Screen "Favorites" Section
See picture below to see what I mean:
If you have a bad habit of picking up your phone every five minutes, consider removing your favorite and most tempting apps from your "Favorite" Section of your Home Screen.
This is typically where your "Contacts" and "Message" Application is because it is the most used application on a cell-phone (as shown in the picture above). 
If you are like me, your phone has become an integral part of how you complete tasks.
For example, you may use the calculator on your phone to do a quick math problem or you may use your phone to do a quick Google search because it's much faster than booting up your computer or opening up another tab to do it. 
Nevertheless, despite your best intentions, those apps saved to your "Most Used" or "Favorites" Section on your home screen could cause you to go down a rabbit hole that you never intended to go down. 
For this reason, removing your favorite apps from this section will help decrease the urge to take a "sneak peek" of what's going on in the social media world and help you stay on task with whatever you planned to explore on your phone. 
4. Limit Your TV time during School/Study Hours
Okay, I am finally out of the phone zone.
Let's talk about another way you can avoid distraction and improve your focus. 
Adopt a "No TV" boundary during school/study hours. 
I can't tell you how my times I've told myself during a quick study break, "Oh I'm just going to watch 30 minutes of Survivor (one of my favorite shows to watch on Hulu), and then I'll get back to work." 
What ends up happening most of the time is that I watch about two or three hours of Survivor because the episodes and the preview of the upcoming episodes are just too tempting not to watch. 
If you share the same struggle, then I highly suggest you avoid watching any TV during your breaks and do an activity that you can do within your self-imposed time limit. Take a nap, go for a walk, stretch, do a quick work-out. 
Plus, if you are doing work on the computer, your eyes will want a break.
Staring at the TV and then coming back to your work may make your body feel like you didn't take a break at all. 
But if are the type that needs some TV to look forward to during breaks, then watch short videos on YouTube that are less dramatic (like make-up tutorial or an update video from your favorite YouTube Star). 
5. Turn Off Notifications on Your Desktop
These days, more and more sites are asking if they can show notifications on your desktop. 
See the top left corner of the photo below to see what I mean: 
I once thought it was a good thing when Instagram asked me if it could notify me of messages, likes, and when I gained new followers. 
I thought:
"Yeah totally. That way I don't have to stop doing what I'm doing on my computer to check my phone for notifications. I can read my messages and the latest activity on my desktop while I work." 
But that was a mistake. 
Getting notifications from Instagram and other social media sites proved to be a huge distraction. 
I was constantly pausing from my work to respond to a message or "like" that comment that I received. 
Once I removed the notifications from my desktop, however, my focus online dramatically improved. 
If you also receive notifications on your desktop and it's proving to be a huge distraction, then I highly suggest you remove them as well. 
Here is how you turn off notifications on your desktop computer:  
If you're using windows/PC: 
Go to the Windows/Start/Home button
Go to "Settings"
Then Go to "Notifications & Actions"
Under Notifications, turn off the "Get Notifications from Apps and other Senders."
If you just want to turn off notifications during certain times of the day, then click "Focus Assist Settings" so you can control which times of the day you want notifications to pop up on your desktop. 
See Picture below:
For Mac Users: 
Click the Apple at the top. 
Go to "System Preferences" 
Click on Notifications 
In the "Notifications" Window on the left, you'll see a list of all of your active apps. Click on the app of your choice and turn off the notifications. 
See the picture below: 
6. Play a "Study With Me" Video on YouTube
One thing that I found to be super helpful and kept me super focused when I was studying was going to the library where I was surrounded by other people who were also studying.
Seeing them focused on their work motivated me to stay focus on my studies. 
You can create that same "library" or "focus group" environment at home by playing a "Study With Me," video on YouTube. 
Tons of college student YouTubers host "Study with Me" sessions featuring count-down timers, music, or just plain silence, that run for 1-4 hours long. Sometimes more. 
Here are some of the most popular "Study With Me" videos on YouTube. Try it out and watch yourself become indistractible. 
7. Host a Live Study Group Session on Zoom. 
You can also host your own study group session on Zoom.
Just make sure that you find some friends or colleagues who you know are going to study and aren't showing up to talk and distract you. 
READ NEXT: 7 Really Helpful Study Tips For College A's
8. Practice the Pomodoro Study Method 
Don't set a goal to try to study for four or five hours without a break if you know you can't do it. 
Most people can't. 
Our brains weren't designed to focus intently on one task for several hours without a break. 
In addition, you won't be able to retain a lot of information if you don't break things up. 
That's why I highly recommend you adopt the Pomodoro Study Method. The University of British Colombia explains this method of studying the best: 
Set a timer for 25 minutes, and start your task. It doesn't have to be a tomato timer—You can use your phone or this online timer.
If a distraction pops into your head, write it down on a piece of paper and return to your task.
When the buzzer rings, put a checkmark on your paper. You've completed one increment, also known as a pomodoro.
Take a five-minute break. You can check the distractions that popped into your head, stretch, grab a cup of tea etc.
After four pomodoros, take a thirty-minute break.
Repeat!
Personally, I was always able to get up to 5-7 hours of studying using the Pomodoro method, taking naps in between breaks.
I would extend my study time from 25 minutes to 50-60 minute intervals (because I could always go on a lot longer) and take 15-minute breaks in between so I could rest my eyes.  
9. Time block your to-do list and set goals for what you'd like to accomplish during each time block
This works. 
If you have one or more assignments on your to-do list, determine how much of the assignment you want to get done, how long you would like to spend on it, and by what you'd like to complete the assignment, and challenge yourself to get it done by that time. 
Here is what that would look like: 
Say your day is freed up by 2 pm. After taking a 1 hr lunch break, you set a goal to complete the following assignments within the following time blocks: 
3:00-4:00 – Read chapter 1 of Intro to Constitutional Law
(15-minute break)
4:15-5:15 – Complete Math Problems on Pgs. 1-6. 
(15-minute break)
5:30-6:30 – Make flashcards for Spanish III. 
(Take 1 hr break) 
And so on…
Setting goals of how much of an assignment you want to accomplish within a given time will help you avoid distraction because you'll be so focused on making sure you crush your goal!
10. Keep a Snack Nearby
Studying or watching a lecture can get pretty boring…
And when you're bored, the likelihood of you feeling hungry or snacky goes way up causing you to become distracted. 
For this reason, I highly recommend you keep a snack nearby.
That way you can nibble away, quiet your stomach, and keep focused on school or your studies until you are ready to take a proper break. 
The best study snacks are:
11. Play Music While You Work
Now, this one tip will all depend on whether or not you're the "I need music while I study type," or the "I can't study with noise" type. 
I am personally the former.
I absolutely need music.
I can study 2x-4x longer than when there is complete silence. I run out of gas too quick if it's silent. 
How about you? 
If you can study with music on, then find something good that will keep you awake but something you can also tune out enough to stay focused on your work. 
That can be classical music, pop music, gospel music…but just nothing you'll be tempted to sing-a-long too. 
You can do karaoke another night lol. 
If you need complete silence, however, then consider buying some earplugs so you can create the perfect silent bubble for yourself.
Regardless of which type you are, you'll avoid distraction and 10x your focus if you create the perfect "sound" environment for you.
12. Put A " Do Not Disturb" Sign On Your Door or Desk & Indicate When You'll Be Free
Another way to avoid distraction, or avoid interruption in this case, is by creating a "Do Not Disturb" Sign. 
This sign does not have to be fancy.
It could be made out of construction paper as long as the message is clear. 
This will help you tremendously if you're sharing a room with a roommate or you live with people who are often barging in to talk to you. 
Don't leave your intent to focus on your studies a mystery! 
Instead of your friends and/or family interrupting your work-flow with "Hey, are you busy? Do you have a moment,? 
Then can just read your "Do Not Disturb" sign and see that you are busy. 
I also highly recommend that you add the time for when you'll be free again or create a separate sign that says "I'm free," or "I'm on break." 
That way your friends don't hit you with the, "I saw your sign so when will you be free? I need to talk to you about something." 
Also, tell your friends and/or family ahead of time that you are creating a "Do Not Disturb" sign and why so they know ahead of time.  
13. Create a Reward for Yourself. 
My favorite strategy that will help you avoid distraction and improve your focus is by creating rewards that you'll receive whenever you accomplish a task. 
I have found this strategy to be super effective.
For example, I love watching movies and in college, I would reward myself with a movie night if I got all my homework done by the end of the day. 
You best believe I focused on my work for the next 4-5 hours after class because I wanted that reward. I wasn't going to let anything distract me from my goal. 
Similarly, find a reward that is so good to you that you'll crush through your studies just to have it. 
14. Finally, establish a routine that you can stick with long-term. 
Okay, so this last strategy isn't as sexy and out of the box as the other ones are but believe it or not, having a good routine in addition to implementing the other tips I laid out above, will help you become indistractable. 
Just like you can train your brain to wake up at 6:30 a.m. every morning if you wake up enough times at that time, you can discipline your brain to focus on a specific activity if you make it apart of your daily routine. 
For example, I used to experience so much anxiety over writing posts like these. Every little thing like my phone or the music I was listening to would distract me because I wasn't working within my comfort zone. 
But as I got into the routine of writing every day for at least 15 minutes, I would become less and less anxious and feel less of a need to escape to my phone or music. 
You just have to be realistic about your routine. 
Don't start anything that you know you won't be able to keep up with long-term and don't be afraid to let something go if you realize what your pursuing isn't working out. 
Finally, keep mental notes of what is helping you stay focused and what other things are causing you to become distracted. 
You may need to remove that distraction all together, create a boundary, change working locations, eat lighter or eat cleaner (like a smoothie) before an attention-demanding activity so you're not falling asleep.
Just be open to making tweaks to your routine and implement as many of these tips above...
Before you know it, you'll 10x your focus.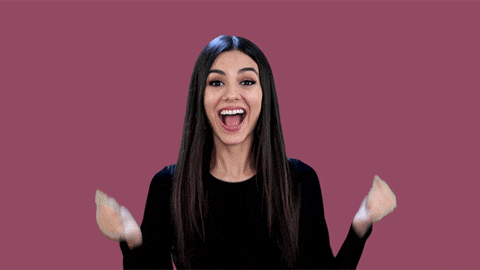 BONUS: 
If you want to learn additional strategies to help you avoid distraction and improve your focus, I highly recommend that you check out this book called Indistractable. I bought this book when I was struggling to focus and it helped me SO much in overcoming my tendency to get distracted. In fact tips 1-3, however to make your phone less distracting, comes directly from his book and was a huge game changer for me.
*This post includes 14 genius hacks to help you focus on studying*
READ NEXT:
11+ Sunday Habits for Student Success
7 Really Helpful Study tips for College A's
11+ Things Professors Do That Annoy Us
P.S. Have you signed up for my newsletter yet? If not, sign up here! Once a week, I send the BEST stuff on all things college like college relationships, how to get A's, and even make funny post like this one so we can both have a good laugh! Just think of me as your go-to-girlfriend for college advice!