*This post is about the best futons for college apartments*
Looking for a great futon for your college apartment or small space? If so, you've come to the right post.
We've found 4 of the best futons for college apartments that we know you'll love!
It was super important that we hunted out the best because we know that many college students are shopping for their apartment or dorm around this time of year and are looking for economical ways to save some money…
And let's be real…save some space!!!
A traditional bed can get too big and overbearing and cost a ton of money, while a futon can fit into almost any space, is portable, and for someone on a tight budget, much more affordable.  
As such, here are 4 of the best futons for college apartments we've found online that you have to see: 
Disclosure: *This post contains affiliate links which means that I may receive a small commission at no cost to you, if you make a purchase through my link.
1. Convertible Futon Sofa Bed
I love this futon so much!! Not only is the futon super comfy but it's insanely gorgeous!! The grey is a pretty beachy grey (not too dark but not too light) and can easily fit into a small space. Finally, this futon is hassle-free as it can be installed in just 5 minutes.
2. Futon Sofa Bed Convertible Couch Velvet Sleeper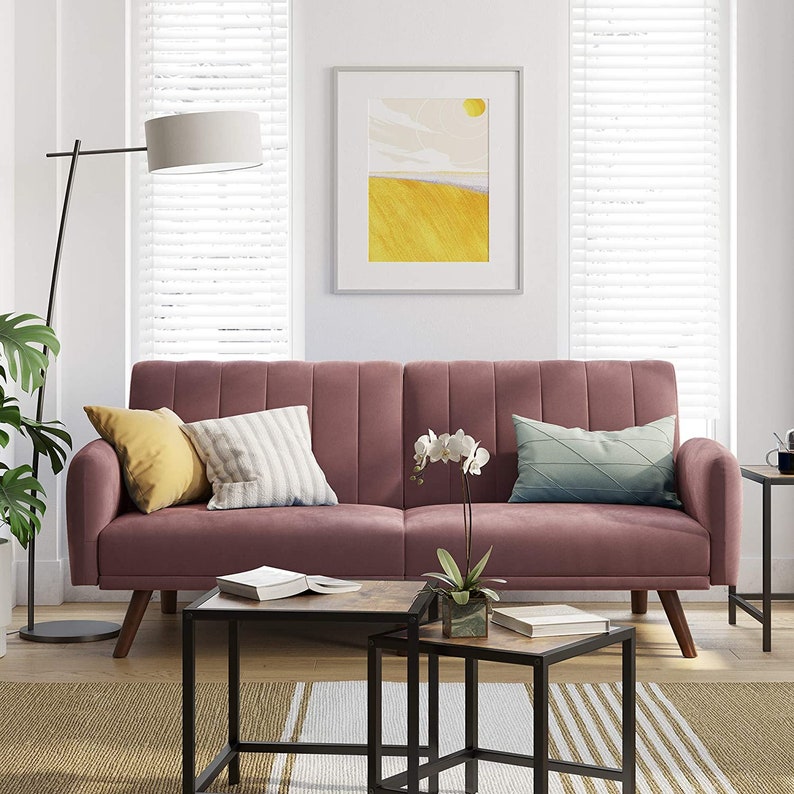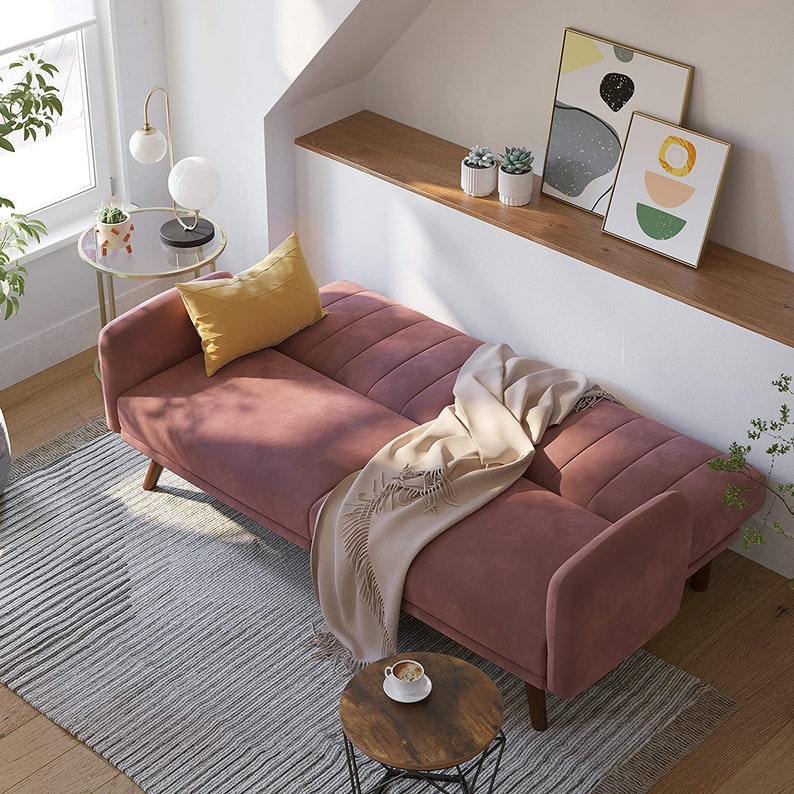 The next best futon is this beautiful velvety futon sofa bed convertible couch.
*Note this futon also comes in grey.
This one runs a little bit more expensive but if you're looking for something super comfy yet chicer, high-end, and something that will make your friends forget that you don't have a bed, this futon is for you.
This futon will completely transform your room and help you get tons of rest at night.
3. YAHEETECH Living Room Futon Sofa Faux Leather Sofa Bed
The next best futon that I am absolutely obsessing over is this Yaheetech Living Room Futon Sofa.
I love how this futon gives you all the feels and convenience of a real couch with the armrests and cup holders, and all the feels of a real bed with the two headrests when laid flat.
Finally, I love love that this couch is made out of faux leather – if you make a spill on it, it's super easy to clean it up. 
4. Milemont Futon Sofa Bed
Out of the 4 best futons, this one is my personal favorite and the one that I just want to take home now!!
Not only does this futon sofa bed come with super comfy cushions, but it's extremely versatile. The futon's parts can serve as a pillow, a footrest, or an arm-rest depending on what you're doing. I also love that you don't have to lay the futon all the way down for it to feel like a bed.
*This post was about the best futons for college apartments*
READ NEXT:
8 Best Desks for College Students Under $100 ON Amazon
The Ultimate Dorm Packing List for College Students
15 College Backpack Essentials That You Cannot Forget to Bring to College
Learn more about Jessica, you're go-to-girlfriend for college advice. Feel free to email her if you have a question or just want to say hello.